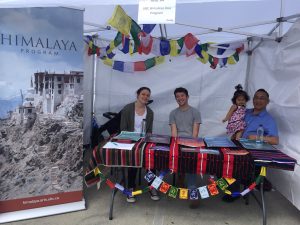 June 22, 2018
The UBC Himalaya Program recently attended the BC Buddhist Festival and had an inspiring time discussing Himalaya-related topics with members of BC's Buddhist communities, along with festival-goers curious about the region and its diverse heritage.  At the festival, which was held Sunday, June 10th, members of the Himalaya Program Steering Committee and instructors of […]
May 29, 2018
A generous gift from the Khyentse Foundation and the Siddhartha's Intent Society of Canada will allow UBC to expand its teaching of Tibetan Buddhist Studies and Tibetan Language. Learn more here.
May 29, 2018
Read about this on the Department of Asian Studies website.  The Himalaya Program is pleased to announce a new gift to UBC of $524,850 from the Khyentse Foundation with support from the Siddhartha's Intent Society of Canada. In collaboration with the Department of Asian Studies, the Himalaya Program will work to expand its teaching of […]

January 20, 2018
Join the UBC Himalaya Program for a roundtable discussion about health policy and practice in Nepal. Medical and public health professionals from UBC, University of Victoria, and the University of Washington explore the challenges and opportunities of working in Nepal, across fields including emergency care, family practice, health education, midwifery, and mental health.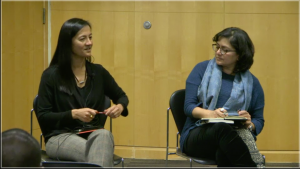 January 5, 2018
Voices of Contemporary Himalayan Literature is now available to be viewed online.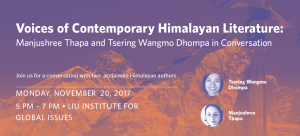 November 7, 2017
Join us for a conversation with two acclaimed Himalayan authors: Manjushree Thapa and Tsering Wangmo Dhompa. They will be discussing their recently published novels, short stories, and non-fiction, considering what it means to represent Nepal and Tibet in the English-language literary scene in North America. Check out the full event listing here.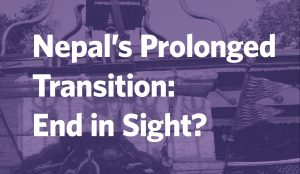 November 2, 2017
Deepak Thapa's talk: Nepal's Prolonged Transition is now available to be viewed online. You can view it here. Alternatively, you can copy and paste the following link into your browser: http://bit.ly/ThapaUBC

August 22, 2017
The Himalaya Program would like to highlight Yujie Ji (Anthropology, PhD), Graham McDowell (IRES, PhD), Dhondup Tashi Rekjong (Asian Studies, PhD) and Ciren Zhuoga (Social Work, PhD) for their focus on studies pertaining to the Himalayan Region. This is a tribute to the diversity of Himalayan Studies at UBC!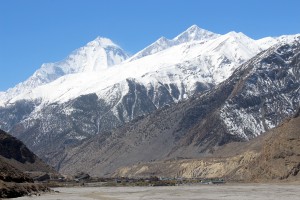 June 26, 2017
The recipients of the 2017 IAR Graduate Research Fellowship have been announced! Congratulations to all students who have been awarded this fellowship. In particular, the Himalaya Program would like to highlight Yujie Ji (Anthropology, PhD), Graham McDowell (IRES, PhD), Dhondup Tashi Rekjong (Asian Studies, PhD) and Ciren Zhuoga (Social Work, PhD) for their focus on studies pertaining […]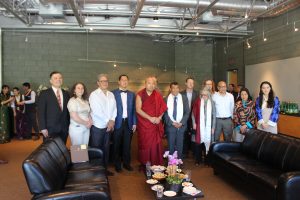 June 22, 2017
Speakers: H.H. the 17th Gyalwang Karmapa and Wade Davis, Professor of Anthropology and the BC Leadership Chair in Cultures and Ecosystems at Risk at UBC The Himalaya Program had the honour to host H.H. the 17th Gyalwang Karmapa in conversation with Dr. Wade Davis at the Chan Centre on UBC's West Point Grey campus to […]