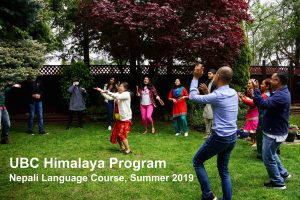 August 19, 2019
Our annual summer intensive community-engaged language courses occurred April-May, 2019. Students were introduced to Nepali language through a blend of classroom teaching and experiential learning in collaboration with local Nepali community groups. In this video, see how the students experienced the 2019 summer intensive Nepali Language courses! For more information, see the language course […]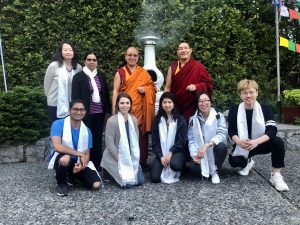 June 28, 2019
It's hard to believe that the 2019 summer intensive community-engaged language courses ended almost two months ago! The summer 2019 courses ran from April 29 to May 10, and offered students a wonderful opportunity to learn and practice Nepali or Tibetan while engaging with the culture in a local context. The new 2019 Student Experience […]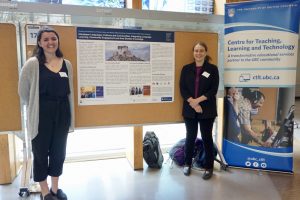 May 3, 2019
Dr. Sara Shneiderman, the Himalaya Program Research & Outreach Coordinator, and Taylor Sacré, the Himalaya Program Assistant represented the program at this year's TLEF (Teaching and Learning Enhancement Fund) Poster Conference on May 2nd, 2019. The TLEF supports "innovative and effective teaching enhancements" and has funded the development of our intensive community-engaged Tibetan and Nepali […]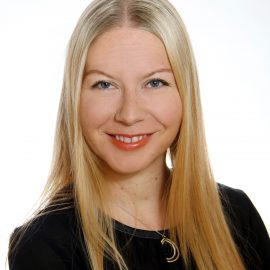 August 28, 2018
The Himalaya Program is delighted to welcome Dagmar Schwerk to UBC as the Khyentse Foundation Postdoctoral Fellow in Tibetan Buddhist Studies. She will be teaching in the Department of Asian Studies. While at UBC, she will turn her doctoral thesis into a monograph (title: A Timely Message from the Cave: The Mahāmudrā Doctrine and Intellectual Agenda of […]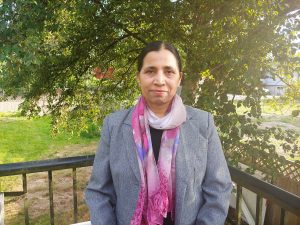 July 18, 2018
The UBC Asian Library recently announced that Sarbjit Kaur Randhawa has transitioned into a full-time position as the South Asian and Himalayan Studies librarian. She has worked part-time as the Indic Librarian in the Asian Library since 2006. Sarbjit graduated from UBC's School of Library, Archival and Information Studies (now iSchool) with a Certificate in […]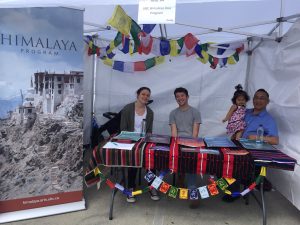 June 22, 2018
The UBC Himalaya Program recently attended the BC Buddhist Festival and had an inspiring time discussing Himalaya-related topics with members of BC's Buddhist communities, along with festival-goers curious about the region and its diverse heritage.  At the festival, which was held Sunday, June 10th, members of the Himalaya Program Steering Committee and instructors of […]
May 29, 2018
Read about this on the Department of Asian Studies website.  The Himalaya Program is pleased to announce a new gift to UBC of $524,850 from the Khyentse Foundation with support from the Siddhartha's Intent Society of Canada. In collaboration with the Department of Asian Studies, the Himalaya Program will work to expand its teaching of […]

January 20, 2018
Join the UBC Himalaya Program for a roundtable discussion about health policy and practice in Nepal. Medical and public health professionals from UBC, University of Victoria, and the University of Washington explore the challenges and opportunities of working in Nepal, across fields including emergency care, family practice, health education, midwifery, and mental health.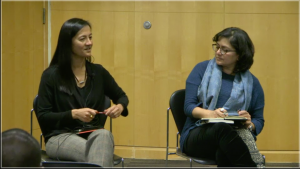 January 5, 2018
Voices of Contemporary Himalayan Literature is now available to be viewed online.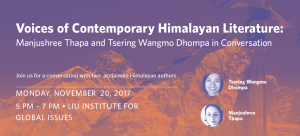 November 7, 2017
Join us for a conversation with two acclaimed Himalayan authors: Manjushree Thapa and Tsering Wangmo Dhompa. They will be discussing their recently published novels, short stories, and non-fiction, considering what it means to represent Nepal and Tibet in the English-language literary scene in North America. Check out the full event listing here.