Archives by date
You are browsing the site archives by date.
December 13, 2019
Save the date! This summer, Nepali and Tibetan Community-Engaged Language courses will run from May 11-May 22, 2020. These two-week, three-credit, introductory language courses blend classroom instruction with experiential learning among Nepali and Tibetan communities off-campus. For the first time, these courses will be fully integrated into the Asian Studies department with brand new course […]

December 10, 2019
Join us Tuesday, January 14 from 5:30-7PM to hear one of Nepal's foremost independent journalists, Shradha Ghale, discuss the goals of conservation and how they affect people at the margins.

November 1, 2019
Join us on November 15, 2019 to hear Professor Cuilan Liu discuss the jurisdictional ambitions of the early Buddhist clergy as she argues against Orientalist assumptions that Buddhism is "lawless".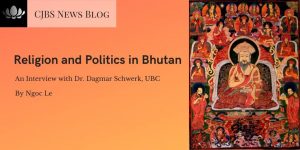 October 31, 2019
Steering committee member Dagmar Schwerk recently published a working paper and interviewed with the Canadian Journal of Buddhist Studies to speak about her current and upcoming research and projects.

October 8, 2019
Join us at the Liu Institute for an exhibition opening and reception on language, scripture, and calligraphy of Tibet. Featuring reflections from the 7th Tsengdok Rinpoche, curator Patrick Dowd, and Tibetan professor Sonam Chusang on the language's global importance.

August 28, 2019
Join us on September 19, 2019 from 5:30-7pm to hear from Selma (Sam) Sonntag on her research in Language Politics and Policy in South Asia and the Himalaya.

August 27, 2019
Watch this short video to see how students experienced the 2019 community-engaged summer Nepali Language course.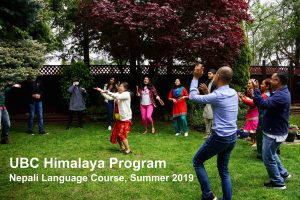 August 19, 2019
Annual summer intensive community-engaged language courses occurred April-May, 2019. Students were introduced to Nepali language through a blend of classroom teaching and experiential learning in collaboration with local Nepali community groups. In this video, see how the students experienced the 2019 summer intensive Nepali Language courses! For more information, see the language course page HERE.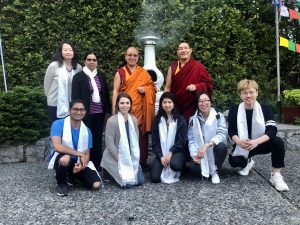 June 28, 2019
It's hard to believe that the 2019 summer intensive community-engaged language courses ended almost two months ago! The summer 2019 courses ran from April 29 to May 10, and offered students a wonderful opportunity to learn and practice Nepali or Tibetan while engaging with the culture in a local context. The new 2019 Student Experience […]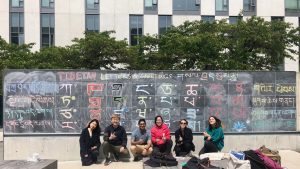 May 21, 2019
Students from the Tibetan Language course practice writing in Bod Yig (Tibetan Script) to create a mural for the UBC community.