Archives by date
You are browsing the site archives by date.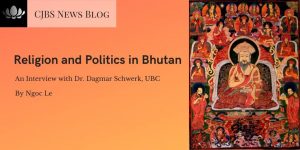 October 31, 2019
Steering committee member Dagmar Schwerk recently published a working paper and interviewed with the Canadian Journal of Buddhist Studies to speak about her current and upcoming research and projects.

October 8, 2019
Join us at the Liu Institute for an exhibition opening and reception on language, scripture, and calligraphy of Tibet. Featuring reflections from the 7th Tsengdok Rinpoche, curator Patrick Dowd, and Tibetan professor Sonam Chusang on the language's global importance.